MineMaster Apollo: Mine Telehandler
Pre-delivery photo of an Apollo 26.6 Mine Telehandler leaving for a Long-Term rental Contract. This Unit shipped with a Man Basket, Forks, and a Bucket. Making it a great all-around tool for any mining contractor.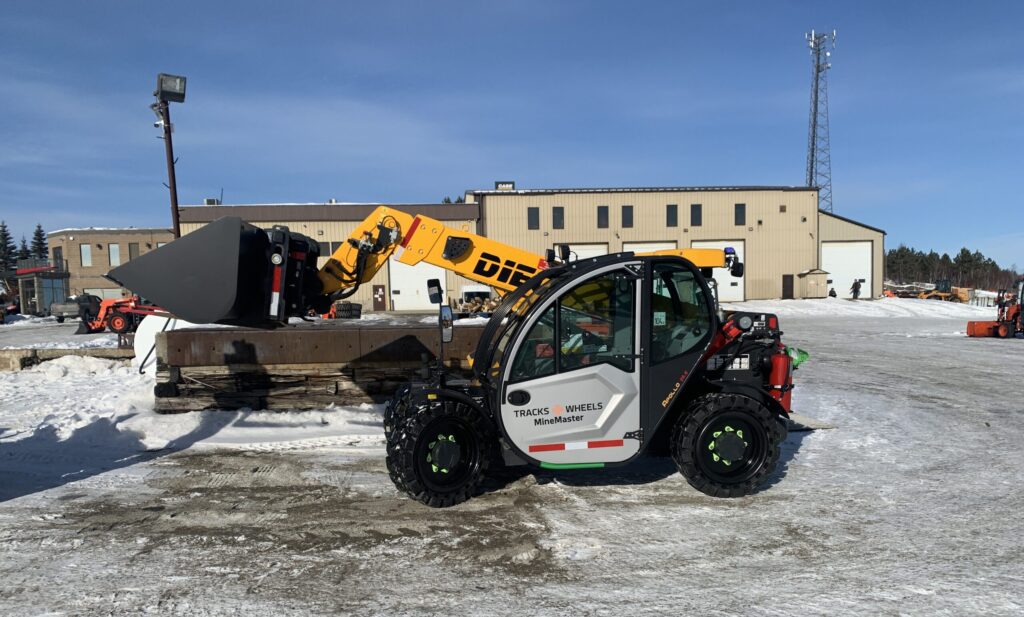 About the Apollo Mine Telehandler
The MineMaster Apollo Mine Telehandler is built with the underground environment in mind. With an category-leading lifting capacity of 5700lbs, extremely tight turning radius, and horizontal reach of 10.5ft the Apollo can move pallets and material wherever it is needed. Powered by a 74hp Teir4 Kubota Diesel engine complemented by a hydrostatic transmission the MineMaster Apollo has the power to get the job done. Furthermore, standard components and familiar system setup facilitates ease of maintenance and low operating costs. For example, many components on the Apollo can be sourced locally which reduces operating costs and maintenance downtime.
Braking system
The Apollo Mine Telehandler features mining-specific Dana axles. These axles feature both SAHR (Spring-Applied Hydraulic-Release) multi-wet emergency brakes and multi-wet service brakes. Internal wet disc brakes eliminate the need for any aftermarket brakes such as dry caliper and driveline brakes making the MineMaster Apollo simple and easy to maintain.
Hydraulic System
The hydraulic system is optimized for underground mining with advanced control valves, a hydrostatic transmission and hydraulic control of the emergency brakes. At 70L hydraulic system the Apollo is ready to go underground without the installation of fire suppression in most jurisdictions.
Attachments
The Apollo Mine Telehandler has a quick connect coupler that enables the operation with a variety of attachments. Optional front attachments include: forks, buckets, cranes, manbaskets and more. Furthermore, all MineMaster Apollo telehandlers come pre-configured with a manbasket package, only a basket is required for manbasket operations. The manbasket package enables safe bleed down of the boom, and basket operated controls if desired. Furthermore, MineMaster has the knowledge and expertise to fabricate additional attachments per customer requirements, contact us to discuss your needs.
Tire Selection
Underground Mine Telehandlers are prone to flats. When carrying a load, the front tires bear most of the load and as such tend to get leaks or flats when operating on rough terrain. The Apollo Mine Telehandler is available with two tire options: either Solid Mining Tires, or 26Ply Pneumatic Aircraft Grade tires. These heavy-duty options reduce or eliminate flat tires and keep your material moving.
Check out our MineMaster Apollo specification page at: https://minemaster.com/mmapollo
Contact us to see if the MineMaster Apollo is right for your operations!
Equipment rentals for underground mining allow sites and contractors flexibility in fleet size and are a quick option to expand your material handling capabilities. Our rental fleet can help keep your operations running. In partnership with Tracks and Wheels, MineMaster offers both short and long-term rentals on most of our products. Contact us for more details on our rental program.